Support the Library/Museum
The Masonic Library/Museum Foundation of Louisiana, Inc. has been established as a 501 (c)(3) charity and therefore, all contributions are tax deductible. The Louisiana Masonic/Library Museum could not survive without the fiscal support of the Members, Lodges, and Appendant Bodies. You can make a donation in any amount at any time.
However, we also offer you these choices for recognition:
In Memorium: Donations may be made "In Memory Of" and those honored, or the family of the deceased will be notified of the donation.

Library/Museum Society: Join the ranks of the Library/Museum Society and show your support by sporting your lapel pin.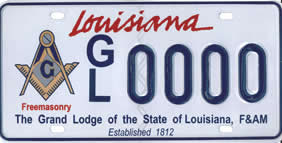 Grand Lodge License Plate: A great way to support the Library/Museum and to raise awareness of Masonry in Louisiana is the Grand Lodge Masonic license plate program. 100% of those proceeds go to the Library/Museum Foundation for operations and supplies.